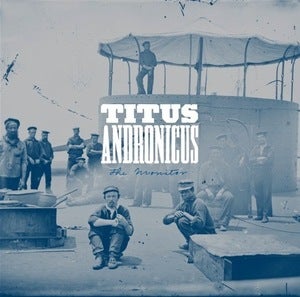 £

11.99 - On Sale
Titus Andronicus – The Monitor
This is the double LP edition of Titus Andronicus' staggering album "The Monitor" available now. This comes with a code allowing a free download of the whole record for your ipod to!
"…they take subtlety out on the town, pour a fifth of whiskey down its throat, write insults on its face in permanent marker, and abandon it in the woods." Pitchfork
"…a macro tale writ small where massive disasters become personal crises. Imperfect, and attractively so." NME
With contributions from The Hold Steady, Wye Oak, Ponytail and The Vivian Girls, New Yorkers Titus Andronicus' second effort comes across as a rabble-rousing salute to the great and the damned of Americana. Loosely based on the U.S. Civil War, using that past horror as a vehicle for expressing personal angst, while never letting themselves lose touch with the present. Or, perhaps more importantly, their sense of off the wall black humour.
One of the greatest albums in recent memory out now on Merok. This version is the CD, but we also have it on vinyl and featuring a FREE download of the whole album if you click here: http://merok.bigcartel.com/product/titus-andronicus-the-monitor-double-vinyl-lp-with-free-download-code